vyeh
May 20, 2010 at 13:07
SMAC/X Unofficial Patches Version 1.0 released
---
Sid Meier's Alpha Centauri / Alien Crossfire Unofficial Patch released!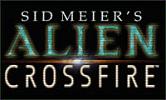 Version 1.0 of the Unofficial SMAC/X Patch, which fixes bugs in Sid Meier's Alien Crossfire and, now, Alpha Centauri, was released on May 7, 2010. Brendan Casey (scient) leads the project, which began in February 2009 at Apolyton and moved in July 2009 to the Civilization Gaming Network.

Until now the patch was only hosted at CGN; however, WPC, which recently relaxed its rules on hosting altered executable (.exe) files, also hosts the patch. The Unofficial Patch may be downloaded from CGN or WPC.

Brendan Casey will continue developing further versions of the patch at CGN, however, CGN and WPC will share publicity and distribution.

For links, go to Quick Start.